Lupe Renteria Lyles
My Life in Calera, Texas by Lupe Renteria Lyles
I was born in a town near present day San Luis Potosi, Mexico. My family moved to Hoban near present day Verhalen, Texas, when I was nine months old in late 1916. At the age of 8 years old in 1923 my family and I moved from Hoban to Calera, Texas.
My parents name were Melitone and Jovita Renteria. There were 3 boys and 3 girls born to the Renteria's. Their names were Efren, Carlos, Telesforo, Semitria, Onofre and myself.
My father died when I was about 3 years old. My brothers were farmers and ranchers combination. They cleared the fields from rocks, weeds, and brush. They plowed the fields and then planted cotton, grains and vegetable gardens. They also raised their own livestock such as horses, cows, chickens and pigs. We lived in one of the Tapias located along the creek.
I started babysitting for a local rancher at the age of 11 and worked there for 8 years. I lived in Calera for 12 years.
The daily life at Calera was one of small ranches and farming communities living and helping each other. While one group supplied the livestock the other group provided the grains, cotton and vegetables. One of the local ranchers (Uncle Charlie) provided a place to visit with people and enjoy the fruits of our labor. Life there was hard, happy, abundant and filled with great people. There were about 80 or 90 persons living in Calera, mostly Mexican American, while I lived there.
When we first moved to Calera there was no church building there. The priest from Fort Davis would come and give mass, baptize and marry once a month. His name was Father Brocardus. Calera was known as a small mission in those days. Later when I was about 10 the people of Calera decided to gather and built a church. My brother were involved in the building of the church.
My brothers and sisters have 4 children buried in the Calera Cemetery.
I remember attending mass at Calera Church with Father Brocardus preaching and giving us the gospel of Jesus Christ.
I remember on Cinco de Mayo celebration dance, when my brother and his friend played their instruments, which took place at Uncle Charlie's. My brother played the guitar and his friend played the violin.
This photo is of myself and youngest sister Onofre showing the Tapia where one of the Kingston brothers lived. I was 11 and my sister was 9 years old.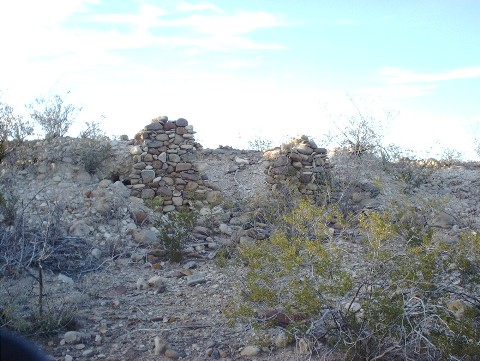 Tapias along Toyah Creek, were probably built on Creek bank for easy access to water and some protection from wind.